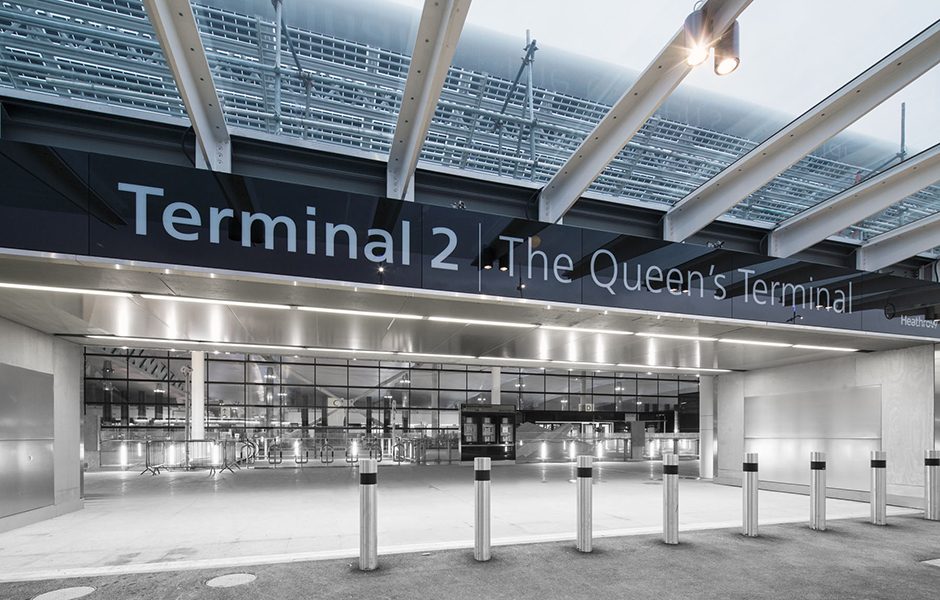 Heathrow Airport
Terminal 2 at London Heathrow Airport was replaced as part of a £4.8bn development programme at the airport. The Terminal 2 project which is estimated to have cost around £2.5bn included the main building, a 522-metre satellite pier, a 1,340 capacity car park, an energy centre, cooling station, and road refurbishment.
The project was completed in 2014 and is home to STAR Alliance, Aer Lingus, and Virgin Atlantic's domestic routes.
The lead architect for the new terminal was Luis Vidal Architects collaborating with Foster and Partners and Pascall and Watson.  To replace the original old and outdated building which opened in 1955 they designed a bright and modern space, with Impressive runway views from the departure lounge, making use of the natural light that pours in through the ten metre high windows and north facing skylights. The terminal is also designed to give priority to environmental issues and energy-efficiency.
The complete terminal covers a floor space of 185,000m2, extending into the existing Terminal 1 site. The floor takes heavy traffic from the 20,000,000 passengers plus associated trolleys and airport vehicles who are estimated to cross it annually.
Vetter UK, the specialist contracting arm of Laing O'Rourke needed to specify a fast drying 135mm deep screed so that the project could continue with minimum disruption, saving time and costs. RonaScreed FastDry Prompt was specified for its fast drying properties and the fact that it could be mixed at ground level and then pumped up the three storeys to the point of application, saving on time and cost.
RonaScreed FastDry Prompt is a screed additive which when added to a screed enables earlier access by following trades and reduces drying time.  Screeds can be laid later in the construction program, reducing likely damage by following trades and saving unexpected bills for surface DPMs.