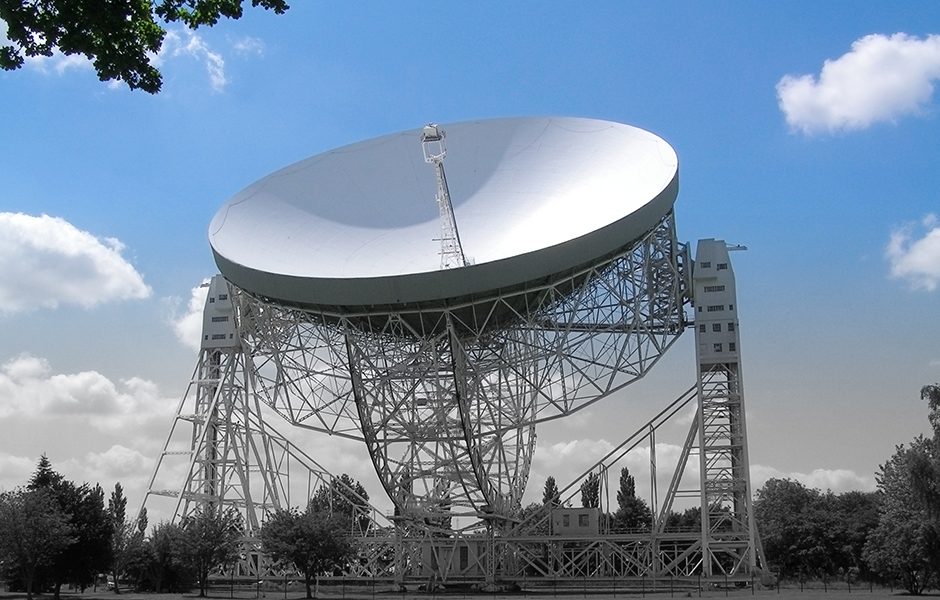 Jodrell Bank Centre for Astrophysics
The Jodrell Bank Centre for Astrophysics in Cheshire has been in operation since 1945 when it was chosen by Bernard Lovell as the site for an observatory. It has since become a world renowned centre for radio astronomy, the launch of Sputnik 1 was announced to the world after detection by Jodrell Bank scientists and the site is listed for World Heritage Site status. Ronacrete products have twice played a small part in its history.
In 1987 the Department of Estates and Services of Manchester University, owners of the Jodrell Bank Complex, surveyed the telescope's concrete supports and discovered cracking and spalling. In consultation with Ashdale Concrete Ltd, they produced a repair specification based on Ronafix polymer admixture, to restore the profile of the concrete and provide protection from exposure to adverse weather conditions.
The damaged concrete was cut out to expose the steel reinforcement and loose rust and scale was removed. The surface was primed with a blend of Ronafix and Portland cement before application of Ronafix Mix Design D concrete repair mortar. Ronafix Mix Design D was chosen for its resistance to carbonation and its waterproofing and frost resistance.
A much more recent project, the new Discovery Centre, was completed in 2011. Landscape architects Grant Associates chose RonaDeck Resin Bound Surfacing as the permeable surfacing to pathways for the landscaping works. The surfacing is required to withstand wear from foot traffic, quad bikes and vans. After researching potentially suitable materials, Grant Associates consulted with Ronacrete's technical department before producing a specification.
The RonaDeck Resin Bound Surfacing system was laid by specialist contractor Route One Highways; an experienced applicator of Ronacrete's hard landscaping products. RonaDeck Resin Bound Surfacing system is supplied as a two-component elastic and UV stable polyurethane resin and kiln-dried graded aggregates, to be blended on site. The aggregate component was placed in a high capacity forced action mixer and the two component non-yellowing resin was mixed with a drill and paddle before being mixed with the aggregate.
RonaDeck Resin Bound Surfacing was applied at a thickness of 15mm to the paths to provide an attractive, strong and slip resistant paving. The permeability of the SUDs compliant system prevents pooling of surface water. Visitors to Jodrell Bank are therefore able to keep their feet dry as they step confidently through the grounds, while appreciating the backdrop of the magnificent Lovell telescope. The resistance of the resin to ultra-violet light ensures that the resin will not yellow or darken and will remain elastic, lengthening the service life of the system.