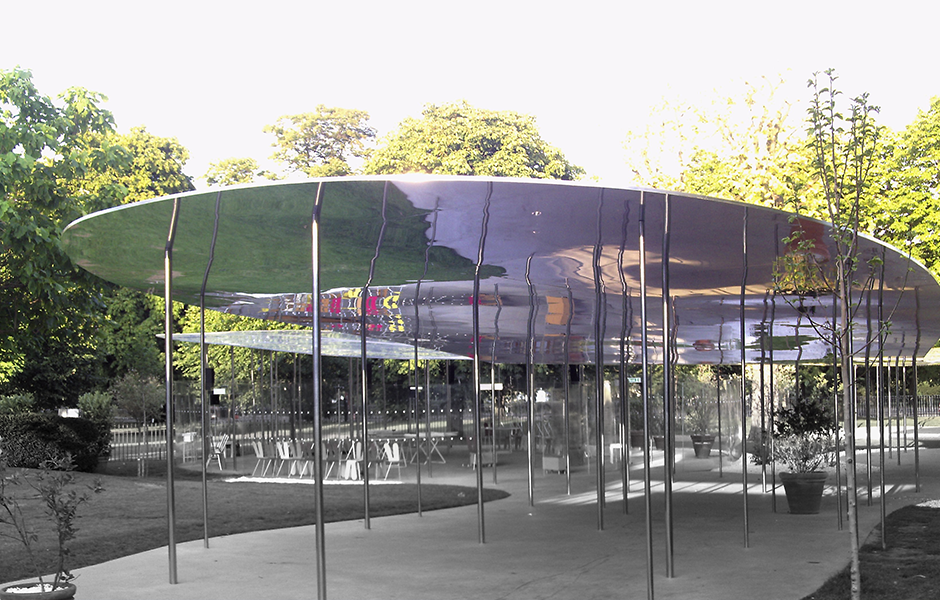 Serpentine Gallery
In most years you can spot the Serpentine Gallery's Pavilion a mile off. Every summer a contemporary architect, new to Britain, is invited to create a "temporary wing" to the gallery, open to all for outdoor events and impromptu picnics.
In 2009, the Japanese architect SANAA, has created an almost invisible – from a distance – wing made from a single, slim, horizontal plane of aluminium perched on skinny columns, and polished to a mirror. It reflects its surroundings, the park's trees and lawns, as to be almost absorbed by them. It disappears. The camouflaged pavilion has been described as a "stealth bomber". Is it there? Is it not?
Seen from up high – from the Serpentine's roof terrace, or even from a passing aeroplane, say – the pavilion has another trick up its sleeve. It looks like a pool of water, a man-made lake perhaps, or a giant piece of jewellery, especially when sunlight gleams down on to its roof. It is easy to imagine miniature versions being sold in the Serpentine's shop. But, above all, this plaything, with all the games it plays on visitors' senses, feels as if it has embraced the park. Apart from a ring of transparent screens around its auditorium, the structure is open-ended, as if delivering a warm welcome to nature, visitors and the city beyond.
Coming back down to earth and considering the foundations of the structure rather than its architectural beauty, the screed within, or under the steel canopy, was laid by Floor Screed Ltd using Ronafix mix design A. More than 500m2 of Ronafix was applied, with varying shades to enhance the overall appearance of the finished pavilion.
Ronafix is more than capable of receiving the thousands of visitors expected over the coming year, and being waterproof and frostproof is also able to cope with the extremes of Britain's weather.