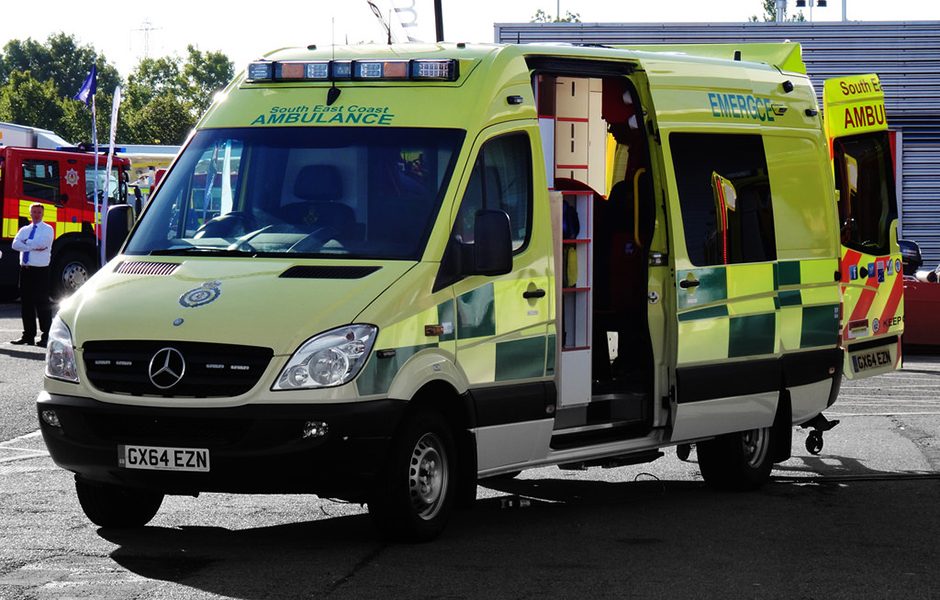 South East Ambulance Service
To make the floor of the ambulance station in Sussex not only look good but also stand up to petrol and diesel drippage and provide a safe anti-slip surface for the emergency services staff and maintenance crews, a new high performance epoxy floor coating was applied to the concrete floor slab.
First the existing coating had to be removed from the concrete; this was removed using professional operators and specialist recoverable grit blast machinery. This equipment – available in push along or sit-on – depending on the size of the area to be prepared, fires metal grit or shot at the floor. This breaks away the top surface, in this case epoxy coating with some concrete attached. The enclosed machinery vacuums up the grit together with the epoxy/concrete, separates the two and recycles the grit. The waste material is collected in the vacuum bag and properly disposed.
After preparation the concrete was cleaned and left dry. Patch repairs were then carried out using RonaFloor Repair 1 Hour 6-50mm. This is supplied prepacked as a dry powder together with a bottle of liquid, the two are mixed and the mortar is trowel applied to the prepared surface. Ronacrete Rapid Primer is first applied to the surface.
Once the repairs had cured and hardened – just one hour after laying – the first coat of RonaFloor HB100 was mixed with a drill and paddle and roller applied. Ronacrete's anti-slip aggregate was cast into the first coat to provide the required degree of slip resistance. After just 4 hours the second coat was mixed and applied. This rapid grade allows speedy installation and can be opened to traffic after just 12-24 hours.
The Anti-Slip Aggregate helps avoid slips, trips and falls on wet and greasy floors. The same coating, this time in yellow, was applied to mark out parking bays and driving areas.