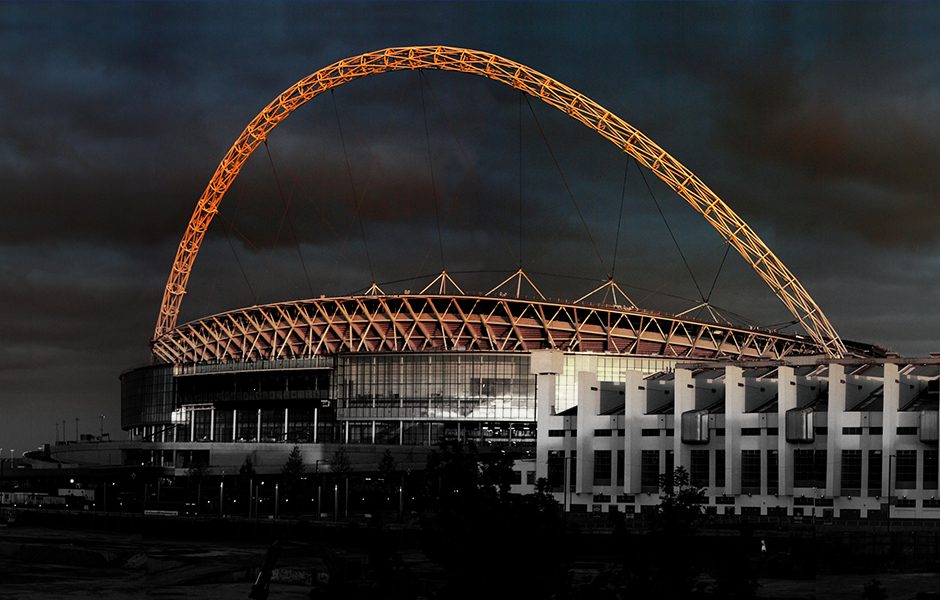 Wembley Stadium
Wembley Stadium, home to the England football team and venue for the football finals of the 2012 Olympics, can house 90,000 seated fans and a further 15,000 standing. At the Take That concert in the summer of 2011, 623,737 people attended the eight shows at the stadium.
These enormous crowds of sport and music fans enter the stadium via a series of ramps which lead into the stadium at five levels.
RonaDeck Resin Bonded Surfacing was chosen to provide a hard wearing and slip resistant surfacing to the tarmac ramps, ensuring that crowds can gain access to the Stadium in safety in even the wettest of weather conditions.
Specialist contractor Entech Services Ltd was employed to apply RonaDeck Resin Bonded Surfacing with Medium Grade Guyanan Bauxite slip resistant aggregate to macadam on 4,500 square metres of ramp.
The surface of the macadam was mostly tightly closed – ideal for this highly specialised surfacing system.  Open textured areas were closed using RonaDeck Resin Bonded Scratch Coat to prevent the resin draining through and to ensure an adequate thickness of resin to secure and bond the aggregate to the surface.
RonaDeck Resin Bonded Scratch Coat was mixed with a slow speed drill and paddle and scraped across the surface of the macadam, filling the voids in the surface.  After just one hour the surface was ready to be receive the RonaDeck Resin Bonded Surfacing.
The resin components were mixed with a slow speed drill and paddle before application by squeegee and roller to the surface at the specified thickness. The Guyanan Bauxite aggregate was immediately scattered into the wet resin and left to cure for four hours.  Excess aggregate was then vacuumed  away and RonaDeck Resin Bonded Surfacing Seal Coat UV roller applied to bind and protect  the surface for ease of cleaning, leaving the ramps ready for foot and service vehicle traffic.