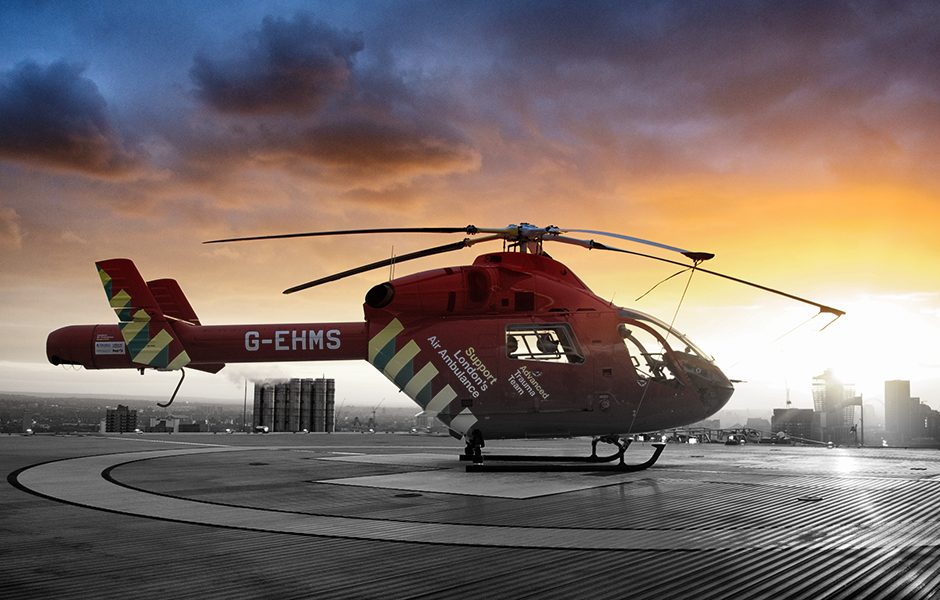 Royal London Hospital
An ambulance is dispatched to the scene. The patient is too ill to move by road, and road isn't fast enough anyway. London's Air Ambulance takes on the responsibility of airlifting the patient to The Royal London Hospital in Whitechapel, East London.
The helicopter lands on the roof of the building, a steel structure designed to accommodate the helicopter, its support and safety equipment, and of course the medical staff whose primary concern is the wellbeing of the patient. As they run across the steel deck, often wet from rain and sometimes snow, it is essential they don't slip. The metal deck is therefore coated with an anti-slip coating with different colours used to mark safe and hazardous areas.
RonaFloor HB100 Rapid was recently applied to the deck to refurbish and replace the existing coating which had become worn. The use of the unique 4 hour cure formulation provided a coating which was quick to apply and fast curing but without the use of harmful, dangerous or flammable solvents. After cleaning down the existing surface and removing any loose, flaking or peeling paint, two coats of RonaFloor HB100 Rapid were applied by roller, which has an intercoat and foot traffic waiting time of only 4 hours, ensuring the landing pad was only out of service for minimal time.